Protection From Dangerous Illnesses
With the outbreak of COVID-19, we have all become more aware than ever of the importance of keeping common areas clean to mitigate the risk of Coronavirus and other health-related pathogens. Pestmaster Services is fully equipped and experienced to provide you with decontamination services to protect you, your employees, and others from these serious threats.
Decontamination Services From Pestmaster Services
At Pestmaster Services, we understand the serious threat that COVID-19 and other illnesses present, and we are offering risk reduction services to reduce concerns in your business. We carefully follow all CDC guidelines and are uniquely qualified to provide you with health-related treatments.
If your business is in any of the following categories, we can help:
Transportation (busses, trains, stations, etc.)
Government buildings (federal and state)
Hospitals
Schools
Athletic stadiums
Athletic clubs
Many more
Our services provide treatments related to multiple zoonotic bacteria and viruses in a comprehensive effort to reduce infection spread. Employing the latest CDC protocols for sanitizing, decontaminating, and cleaning high traffic surfaces, our trained technicians will perform the treatments using the following procedure:
Inspect the areas to be treated.
Avoid areas with computer terminals, keyboards, outlets, or other spaces that could be damaged by our misting system.
Flag off treatment areas to keep unauthorized personnel from entering during the treatment process.
Treat with an application of DSV, an FDA and CDC approved antimicrobial product with a fresh scent that offers viral and bacterial protection against health-related pathogens such as coronavirus.
Take the proper amount of time to fully treat doorknobs, tables, chairs, handrails, armrests, and anywhere hands touch or where there is a higher risk of contamination, such as restrooms or confined spaces.
Allow treatment to remain wet on surfaces for at least ten minutes to be effective.
Wipe excess with a soft cloth if necessary.
All technicians suit up appropriately in PPE. We work under the assumption that Coronavirus is present.
Safety is our top priority. Two-person teams will work in concert with each other to accomplish the treatments in an efficient yet effective manner. No treatments will be rushed to ensure that all necessary areas are covered. We treat this as a serious and life-threatening virus. Our job is to deactivate the virus, kill other forms of bacteria that may be present, and create a cleaner and safer environment.
Remove safety tape, clean up the area, and exit the site. We'll then report the completion of the treatment to you.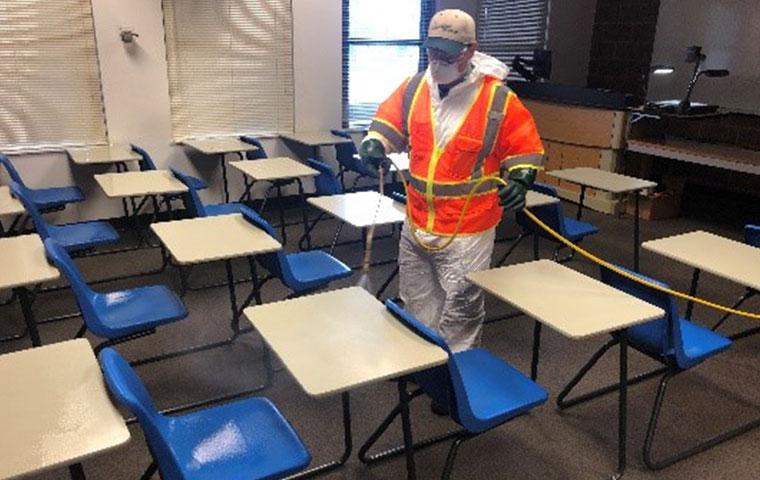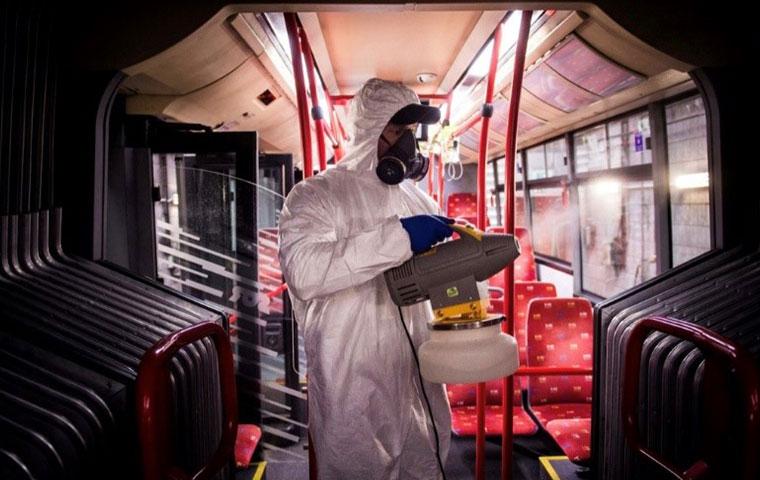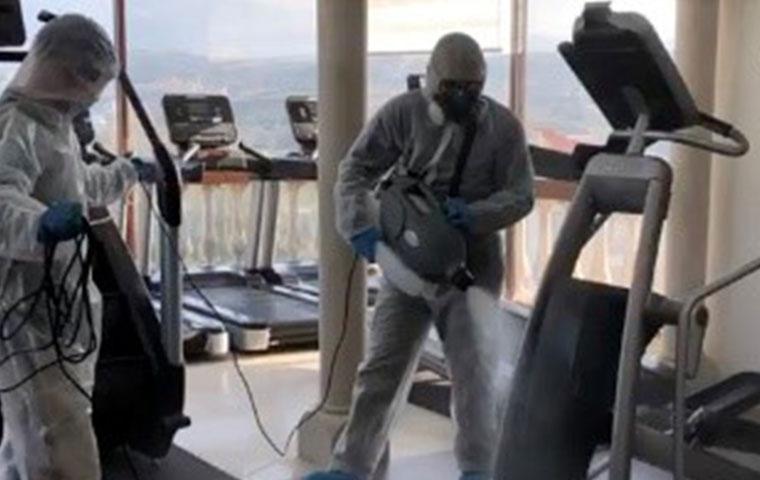 Keeping Your Employees And Customers Safe Is Our #1 Priority
We understand the stress that COVID-19 continues to cause and we are committed to helping you keep your employees and customers safe from infection. Although we can't guarantee that there will never be a coronavirus outbreak in a treated area, we take our role seriously to mitigate risks and treat areas to the very best of our ability. Contact us to speak with one of our knowledgeable representatives and schedule your service today.